In the past decade, digital transformation has reached many industries and areas of business, healthcare being one of the biggest industries at the forefront of modern tech adoption. There are hundreds of healthcare apps aimed at both medical professionals and patients on the market, and they have found a lot of success with both. In this article we will share the ins and outs of developing a healthcare application, from reasons why developing a healthcare app is a good idea to ways of choosing the right software development partner to the average cost of developing a healthcare app.
Healthcare Mobile App Development Market
Market presence of healthcare mobile apps
Healthcare apps aim to provide patient-centered medical services accessible from anywhere, like health monitoring, attaining fitness goals, etc. On the other hand, medical professionals and health clinics can provide a higher standard of care and reduce the workload.
Components Of Digital Healthcare
Digital healthcare leverages the potential of the latest tech trends, including AI and machine learning, to modernize healthcare services. Healthcare-focused software ranges anywhere between simple chatbots and medical record databases to complex computer vision systems for assisted diagnosis and big data analytics.
Healthcare mobile apps have already rooted in our daily life.
Healthcare apps are used not only in a professional setting, but have already integrated into our daily life. Here are some healthcare apps that have found popularity:
Habit tracking apps, like apps for tracking sleep, diet, consumed calories, mental health
Apps that facilitate remote healthcare services, like text and video chat apps that connect patients with healthcare professionals
Reminders to take medication or perform an action
Apps for medication delivery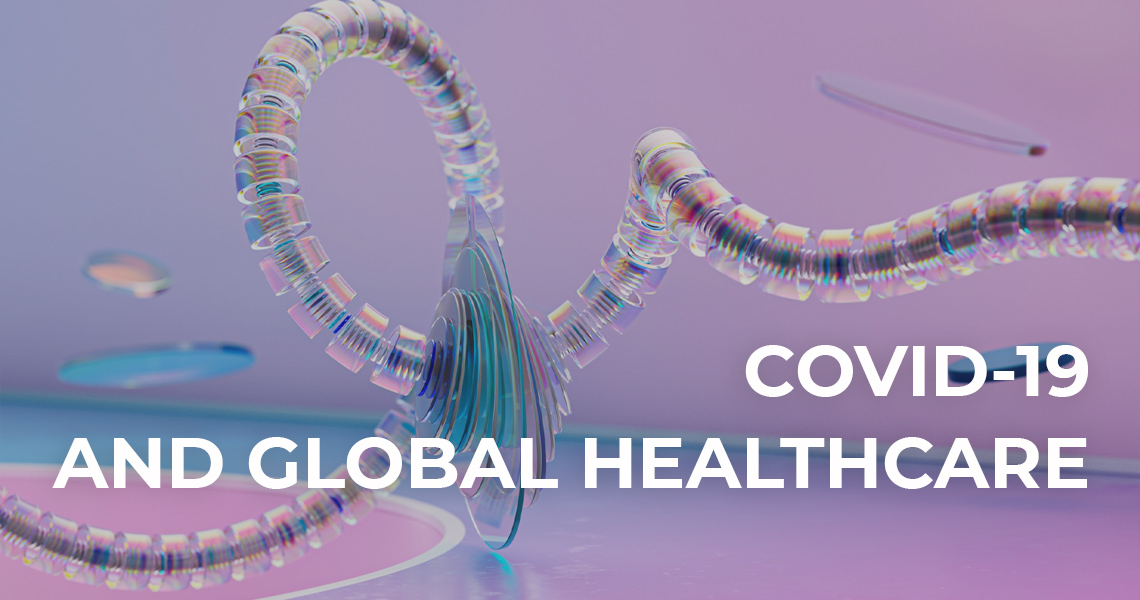 IMPACT OF COVID-19 ON GLOBAL HEALTHCARE
COVID-19 is one of the global forces behind the fast growth of digital healthcare. The pandemic has forced the healthcare industry to adapt and implement modern digital solutions and move a significant portion of their operations online. A growing percentage of smartphone users and better internet connectivity are the main factors behind the rise in global demand for healthcare mobile apps. Preventive healthcare is at the forefront of global healthcare which is yet another reason for market growth.
A global health crisis has spurred innovation, attracted government funding towards healthcare initiatives, and has helped to introduce modern tech into new areas. The virus-accelerated innovation growth is not expected to stop anytime soon, on the contrary, the rate at which new tech is adopted is expected to increase.
Trends In Mobile Apps For Healthcare
The rise in health concerns and the move to remote health services encourage patients to take matters in their own hands and keep a close eye on their health. Large medical companies and facilities are embracing this change and starting to implement telemedicine tools. Artificial intelligence, machine learning, computer vision are not buzzwords for the medical industry, it is the everyday reality of modern healthcare services. AI opens a lot of opportunities for the healthcare sector as it has multiple advantages over traditional disease diagnostics and medical analysis. Machine learning algorithms can be trained on medical data and provide information that has not been accessible before. It is vital for healthcare providers to adapt the innovations in a timely manner to keep up with the digital transformation and modernize business processes.
Trend №1: Consumer-First Healthcare
In 2023 the shift to digital technologies in healthcare will continue to rise. Up until the last couple of years, healthcare providers used digital healthcare systems to gather more medical information. The industry now sees the emergence of a patient-centered approach to healthcare services, forcing providers to leverage latest technologies to provide higher standards of care and offer additional services to patients. Questions like "How can hospitals make patients' lives easier?" and "How can medical professionals provide more value to the patients?" will be at the forefront of modern healthcare in 2023, and they will need to be answered, thus the expected shift to patient-centered approach powered by modern healthcare mobile app development which will help medical providers add more value to their services.
Trend №2: Interoperability
Interoperability in healthcare refers to a common network of data from various health networks that is available to clinicians, labs, and hospitals. Healthcare providers can deliver better medical treatment using a system like this. When various systems' hardware and software can connect and communicate with one another without hindrance, this is known as interoperability.
Trend №3: Telemedicine
Telemedicine, or remote medical services, have had a bad reputation for being hard to use for the patient and non-informative for the healthcare practitioner, and have been used only as a last resort. Over the past two years, remote medical services have seen a lot of development and are now seen as a fast and convenient way to receive medical services. Now, telemedicine is useful for both the patient and the medical professionals. From simple checkups with a family doctor to major scientific conferences, the majority of healthcare-related practices can be conducted online.
Trend №4: Integration With Medical Equipment
An application which connects to medical devices can help both the patient and the healthcare professional to quickly and conveniently gather vital health information in one place. Applications can connect multiple devices together and gather patient reading in real-time and analyze them. This will make gathering valuable medical data and its subsequent analysis easier for the medical professional, and make it simple and convenient to get real-time health data for the patient.
There are many different medical devices that can potentially be augmented with a mobile application:
blood sugar level monitors
pacemakers
electrocardiographs
blood oxygen level sensors, etc
Trend №5: Online Registry And Waiting Rooms
Another trend that will rise in 2023 is the emergence of virtual waiting rooms. Their popularity is explained by lack of close contact between patients in a small room which reduces the rate of infection spreading. A virtual waiting room can be implemented in multiple ways, but a mobile app is the easiest to implement and use by the patients. A virtual waiting room app can send the patient a notification to let them know it's their turn to enter a medical facility, as well as show them an approximate waiting time, as well as provide the latest information about the medical facility they with to enter thus eliminating the need for shared informational leaflets and magazines, as well as reducing the spread of infection through the viruses that are on op of shared devices, clipboards, pens, and papers.
Trend №6: Monitoring Elderly Patients Remotely
An ever-growing average age of the planet's population due to increased life expectancy in developed countries is influencing the way medical technology develops. It is expected that by 2050 the global elderly population will grow up to 16% of the global population, compared to 9% in 2020.
As there will be such a large percentage of senior people, medical treatment will become more expensive, driving the need to discover better ways to care for elderly people. The WHO ICOPE Handbook App, a piece of digital health technology, aids healthcare professionals in providing better care for elderly patients. This group of technologies allows high-risk patients to avoid potentially dangerous hospital visits by monitoring elderly or chronically unwell patients at home. The app can offer a quicker means for the doctor to communicate with the patient if something goes wrong. The software will govern the patient's status via a wearable gadget and send alerts to them and their caretakers if necessary.
Remote patient monitoring will keep getting better. The creation of these kinds of healthcare mobile apps will soar, and even more remote caregiving tools will be developed. Chatbots and other digital devices can encourage healthy aging, while apps can assist with medication management and appointment reminders.
Trend №7: Artificial Intelligence for Better Medical Decision Making
Artificial intelligence is being used by science-related businesses to find and produce novel medications and vaccines. There are numerous healthcare applications for AI, particularly in clinical decision-making to support medical professionals in disease diagnosis. It is most likely one of the most significant areas where AI will advance in the near future. Disease diagnostics will be augmented with artificial intelligence, but a medical professional will still have the final say. The rate of implementation of ML-based diagnostic systems has already increased. Future AI/ML solutions will support patients by focusing on critical condition prevention. Patients who forget to take their medication, take it at the wrong time, or take it in the wrong combination, for instance, could be given priority for nurse visits, calls, counseling, and instruction.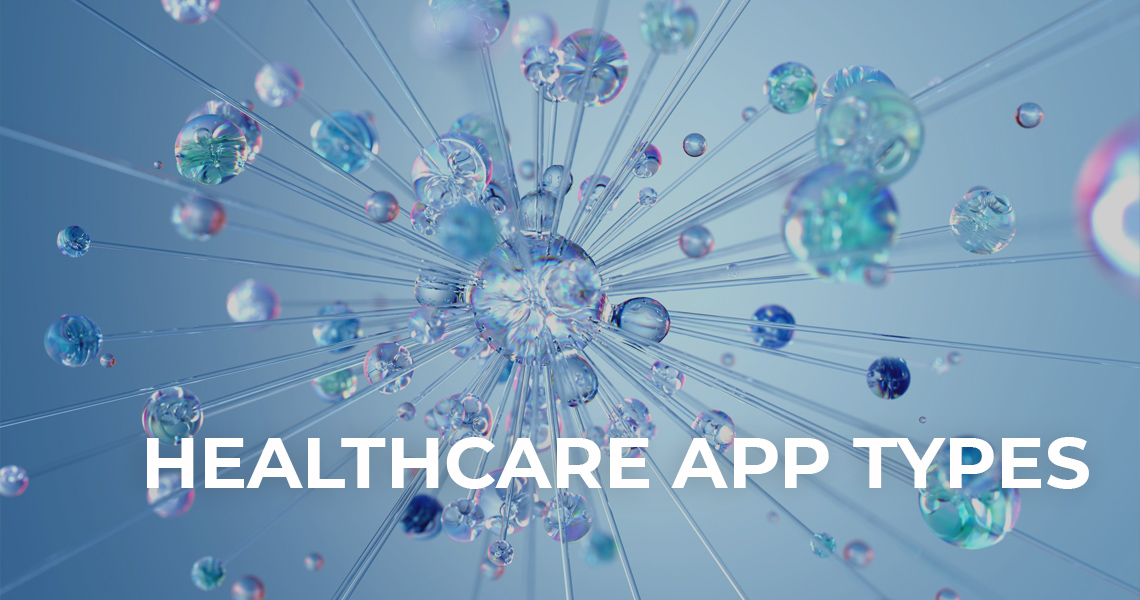 Types Of Mobile Healthcare Apps And Their Functionality
The entire process of developing a healthcare mobile app is influenced by the type of application, its functionality, needed integrations, and necessary level of data security of the solution. Apps for consumers (the general public) and apps for healthcare providers are two types of apps all eHealth mobile solutions can be separated into. Let's take a look at a few of the most widely used eHealth apps.
№1: Fitness apps
Numerous fitness facilities throughout the world have been temporarily closed as a result of the pandemic. The use of at-home workout apps has become increasingly popular as a result. These popular applications are useful for keeping track of one's health and fitness because they offer a variety of low-cost training options. Activ5, a fitness app we have developed, is an example of such an app.
Features:
Workouts from famous coaches
Setting and achieving objectives with personalized exercise programs
Exercise category, body component, length, and intensity filters
Mentorship
Integration with HealthKit's real-time heart rate monitoring feature on Apple Watch, Samsung Watch, and other devices
№2: Online Pharmacy
It's important to be healthy and take your prescription medication exactly when your body needs them, but occasionally one could forget. By using the patient's age, weight, and other personal information as well as the patient's current condition, doctors can calculate individual drug doses without having to use time-consuming manual calculations, spreadsheets, or sophisticated tools.
The development of healthcare applications can assist users in managing their medications, tracking their symptoms, forming healthy habits, and sharing information with doctors and caregivers. Personalization and proactive, preventative action can be made possible with the use of cutting-edge AI and machine learning.
Useful functions:
integration with electronic health records, which allow medical professionals to keep a close eye on the patient's health and treatment history as well as the types and dosages of their prescriptions
medication reminders
dose optimization based on the patient, drug concentrations, and genotype in clinically proven pharmacokinetic models.
predicting the results of treatment
progress charts and automatic report generation
№3: Risk Assessment Applications
Through connectivity with the EHR and other wearable health monitoring devices, keep track of patients' health in real time. The FHR 5-Tier app for obstetricians, midwives, and nurses who utilize Electronic Fetal Monitoring (EFM) for women in labor is a wonderful illustration of how risk assessment was incorporated into the creation of healthcare applications.
Useful features:
Fetal heart rate (FHR) interpretation to support immediate patient care choices
Notifications when monitoring equipment detects a risk to the patient's health
№4: Mobile health apps for patient-doctor communication
One of the most popular subcategories of healthcare mobile app development is patient-doctor communication apps. Through an integrated payment channel, such apps can assist users in finding a medical specialist, scheduling an appointment, setting up a video call, and paying for a consultation. These services can improve patients' loyalty to the healthcare provider and their involvement in the therapeutic process, fostering greater openness between patients and healthcare professionals. Typically, a doctor's mobile on-demand app might have the following capabilities:
Text and video chat, conference calls
Built-in drug registry
Medical research papers registry
Virtual waiting room
HIPAA Compliance, high data security
№5: Diet and Nutrition Applications
It was discovered that during the past few years, obesity-related disorders have consistently ranked among the top three fatalities globally. A widespread concern, obesity may be treated or prevented with the help of mobile eHealth. These kinds of applications are widely available, like a library of recipes, a calorie counter, a food journal, and a progress chart are all included in the typical weight loss app.
Features users like:
Meal tracking
Meals and ingredients database with frequent updates
Micro and macro elements tracking
Large database of recipes
Shopping list functionality
Ability to customize the homepage or a dashboard
Meal planning
Registering food images in the app Ability to take or upload pictures of food
№6: Disease Control And Monitoring Applications
These days, there is a big demand for these apps. Applications for disease tracking are being utilized to lower the frequency of infections. Additionally, there are apps for memory-impaired users that support people with epilepsy, diabetes, cardiovascular disease, asthma, allergies.
In this case, developing a healthcare app may include incorporating the following features:
By manually entering seizure details, a user is able to identify the type of a seizure, the time of day, how long it lasts, and other pertinent details
Smartphone video recording enables users to explain their seizures and their causes to a doctor (or family).
Self-management of patient's health via integration of medical devices into the app
Medication alert to remind the patient to medicate in time
Schedule and list of medications: Apps for chronic care coordination with a calendar are essential for patients to remember to take their medications on time and prevent skipping or overdosing.
Summary reports of patient data are necessary so that the doctor can track changes over time and modify the treatment plan as needed.
Using this telemedicine service, an individual can schedule a video consultation with a physician.
Real-time feedback and chat: With this function, a patient can speak with a doctor right away if they feel unwell.
№7: Lifestyle apps
Some may question if the development of lifestyle apps even falls under that of healthcare applications. However, they do fall under the healthcare sector's aegis and provide a combination of daily guidance and exercises, training, or courses to enhance mental and physical health.
Why not also schedule meditation sessions if we can order takeout with the touch of a button? There is a flourishing market for lifestyle applications due to rising stress levels and the requirement for multitasking practically everywhere.
Features you may consider adding to your app:
Social media integration
Cross platform app for easy access from any device
Push notifications to perform various well being-related actions, like drinking water or staying active
Assisted meditation
Progress tracking and goal setting
Integration With wearable devices like Apple Watch
№8: Apps for social networking and health forums
Community is crucial, particularly in the modern world where people are isolated from each other more than ever. There are social networking sites for medical professionals to engage, study, and share their expertise in order to keep on top of the most recent digital advances in healthcare.
Features you may consider valuable while working on social networking healthcare application development:
Text and video chat
Push notifications
HIPAA Security
№9: Pregnancy assistance
Apps like these offer pregnant women an information resource. A daily maternity calendar, fitness and nutrition advice, and a newsfeed on a topic of pregnancy are some of the possible features. The software also includes a baby names database, a contraction timer, and a birth plan checklist. The software will change into a daily parenting guide once the child is delivered.
Features you can be inspired by for your app:
Pregnancy and fertility tracking
Ovulation tracker
News feed on the topic of pregnancy and fertility
Baby Due Date Calculator
Pregnancy photo diary
Contraction timer
Nursery checklist
Pregnancy calendar
Baby Names database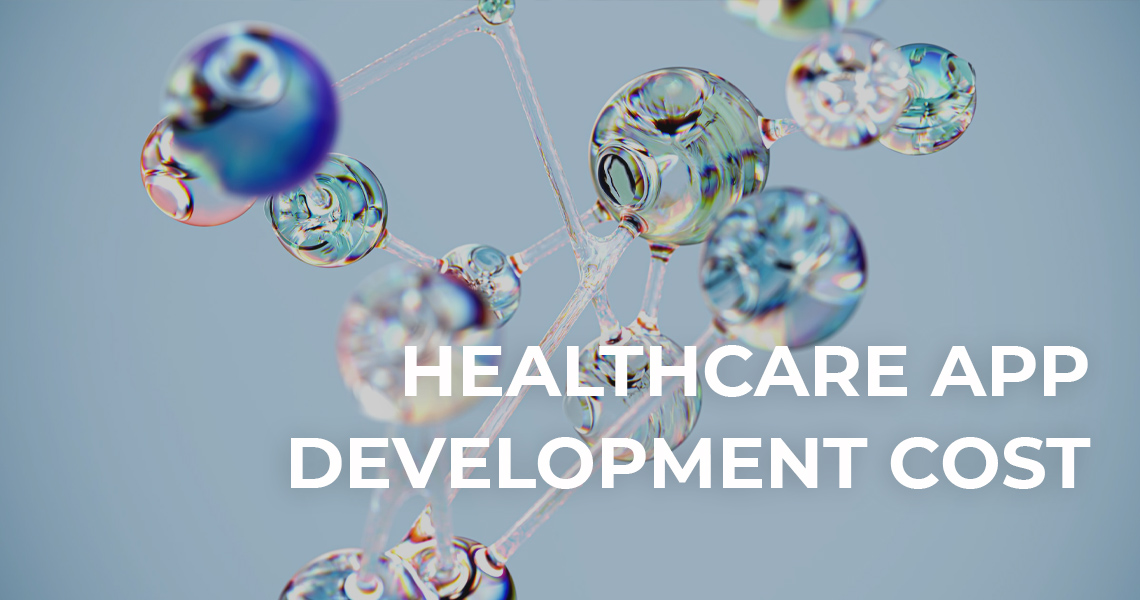 Healthcare Mobile App Development Services Cost
The cost of developing a healthcare application increases with concept complexity. Numerous hours of development and subsequent testing are needed for custom UI components, the amount of application states, buttons, fields, business logic, and the server architecture.
The healthcare mobile app development cost usually depends on:
Business analysis: analysis of competitors, user paths and user experience, tech stack
Choice of platforms, like iOS, Android, watchOS, etc.
Choice of specific technologies like machine learning and artificial intelligence
Specification of app design, branding, etc.
Mobile app development vendor you've chosen to hire
One of the most expensive parts of healthcare mobile app development is the implementation of business logic and app screens. These aspects require a robust team of specialists, from mobile developers to project managers and QA engineers.
The table below illustrates the range of costs to build an app with a timeline accordingly:
| | | | |
| --- | --- | --- | --- |
| | Basic App (core feature set, 1 platform) | Full Product (more features and more complex design, 1 platform) | Large App (complex app design, development, and support, 2+ platforms) |
| Total cost | ~$35,000-$100,000 | ~$100,000 -$150,000+ | $150,000+ |
| Timeline | ~3-5 months | ~4-9 months | 9+ months |
Why Do You Need A Healthcare App?
eHealth applications are typically developed for two purposes: to generate revenue and/or to raise the standard of medical care offered. The former is crucial for entrepreneurs who frequently release relatively straightforward fitness applications, insurance apps, or consultancy apps to break into a market that will be worth $50 billion by 2050. Patients are eager to utilize these apps because technology makes it simpler to monitor important health factors and offers much-needed convenience.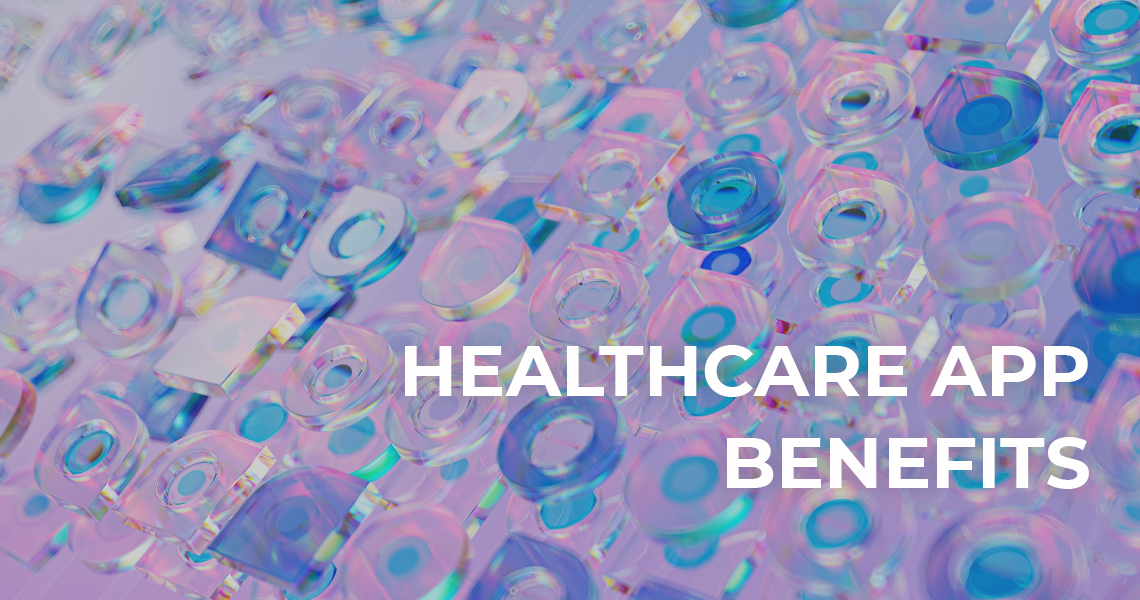 Healthcare App benefits: For Business Owners, For Users
Everyone benefits from the development of healthcare applications. For the patient, it means receiving medical attention; for the healthcare specialist, it means a decrease in workload from regular procedures that frees up more time for the actual diagnosis and treatment of various ailments. Mobile information access also minimizes the distance between patients and doctors, speeds up decision-making, and makes data collection easier.
User benefits of healthcare apps:
Better communication with a medical professional, more transparency
Faster access to medical care providers
Better adherence to medication
Possibility to access medical care remotely
Forming of healthy habits
Benefits for the healthcare service providers:
Customer loyalty
Closer relationship between the client and the doctor
Automation of daily activities
Better marketability
Higher standard of care
Things To Consider Before Developing A Healthcare App
№1: Select A Mobile Platform
When you have already developed the concept for your future app, it is important to consider the application platform as development for Android and iOS is different. As the budget, potential audience, specifics of healthcare app development, and marketing of your future application depend on it, choosing a platform for healthcare mobile app development is an important step in a business strategy when building a mobile app.
You must create competent technical specifications to outline the application's features, modules, use cases, etc. after deciding on the app's concept, functionality, and OS platforms. It is not required to define the main features and concepts of a specification in a technical language. The implementation will be handled by a healthcare app development firm. To establish an application, you'll need to find a reputable development firm if you lack programming and web design expertise.
Looking for a development team?
Send us details of your project and we will get back with a time and price estimation
Get In Touch
№2: Define Your Target Audience
You must identify the application's target audience in order for it to reach its consumers. A customer portrait combines a potential user's unique objectives with demographic, social, and other information.
You must provide answers to the following questions while developing a buyer persona:
What issue will the software address?
Why will they use it?
Who will use it? What makes the app special (how is it different from the competition)? What traits (gender, age, and education level) set this audience apart?
Do successful pre-made solutions that are comparable to yours on the market exist?
Instead of addressing all the issues at once, concentrate on one issue that will be resolved by the application.
Avoid attempting to make an all-encompassing app with a lot of features:
Plan functionality and design around users' requirements and preferences
Use the optimal monetization scheme
Create a targeted marketing campaign
Define the app's category: patient-oriented or doctor-oriented
Identify the internal or financial objectives
№3: Select A Monetization Model
Building an app purely for the purpose of it is pointless. Consider the financial gain - both yours and your clients'.
Payment Model and Registration Fee
The most popular ways to monetize apps include registration and subscription fees. It functions well for aggregators where healthcare providers, wellness professionals, hospitals, etc. can register and pay for people to be able to discover them. Similar to that, customers might also need to pay a small monthly charge in order to use the app.
Premium Content And Freemium
One of the most common methods of app monetization is the freemium model, which is derived from the words "free" and "premium." If operates under the assumption that users will receive value. Users can utilize a trial version of the software for no cost before purchasing a full version. Users see it as fair because they know what is available and what they are paying for.
Model for In-App Purchases and Merchandising
This strategy works best for gamified health apps where users can purchase credits to upgrade or buy more lives. This includes paying in advance (via the app, for example) for a consultation, appointment, or other service.
In-App Advertisement
The in-app advertisements model is one of the most widely used ways to monetize the application by allowing third-party firms to pay to advertise on their apps. Brands can pay app developers to display their product/service commercials, much like with television and radio.
№4: Comply With Data Security Requirements
Let's say you want to create a professional mobile application that deals with private patient information. In that case, you ought to think about the legal and safety guidelines established locally. Without this, you cannot market your program in stores like the Google Play Store and the App Store, which increases the risk of user and governmental lawsuits.
Compliance with legal and safety regulations
For the development of healthcare applications, secure data storage is essential. This information's disclosure is regarded as a serious legal infraction. Additionally, patients whose safety has not been guaranteed may be harmed. In the healthcare industry, data processing and storage must adhere to a tight set of regulations. The following laws govern how to interact with medical data: HIPAA, PHI, HITECH (USA), GDPR, DPLEF, DPLED (European Union), The Data Protection Act (United Kingdom), PIPEDA (Canada), and others. Your future application must also adhere to these laws. Let's take a closer look at these rules.
Who are the data controllers and data processors in the outsourcing of healthcare app development?
The entity that establishes the terms for data processing is known as the data controller. In the case of software development, it's the client. An individual or business that processes data on behalf of a controller in accordance with the controller's instructions is known as a data processor. It is a contractor in outsourcing.
Healthcare data is known as protected health information (PHI). The information that HIPAA seeks to safeguard and keep private is known as PHI. To declassify PHI, you must remove certain types of data, according to the Safe Harbor Rule. Individuals who work in the healthcare industry and have access to PHI are considered covered entities. They consist of medical professionals, nurses, and insurance firms. Business associates, who collaborate with a covered entity in a non-healthcare role, are accountable for upholding HIPAA compliance in the same manner as covered entities. Business associates include people who work in the legal, accounting, administrative, and IT fields in the healthcare sector who have access to PHI.
HIPAA: The cornerstone that all applicable organizations need to get familiar with is the HIPAA Privacy Rule. The Privacy rule specifies who is allowed access to PHI and when. This applies to everyone who is a part of your ecosystem of health information, including administrators, lawyers, and healthcare providers. Knowing the Privacy Rule is the first step in achieving HIPAA compliance for this reason.
ADA: Another law to take into account while making an app that prohibits discrimination against those with disabilities and mandates that businesses maintain accessible standards is the Americans with Disabilities Act (ADA). It also has applications in medicine. For instance, while developing an inclusive social media site, ADA compliance is required.
GDPR: Protecting people in connection with the processing of their personal data is the goal of the GDPR. This regulation applies to both those who are permitted to store such data inside the EU/EEA and those who are permitted to provide individuals outside the EU/EEA with goods or services in this area, send personal data to organizations inside the EU/EEA, or send personal data to recipients inside the EU/EEA.
DPA: The DPA Data Protection Act, a piece of UK legislation, is applicable to "personal data" that refers to specific people. It sets guidelines that must be followed while processing personal data and grants individuals the right to view their own personal data through subject access requests.
PIPEDA and GDPR have many similarities. The Canadian Minister of Information, Science, and Economic Development introduced the Digital Charter Implementation Act (DCIA) on November 17, 2020. The Personal Information Protection and Electronic Documents Act, Canada's current private sector data protection law, will be replaced if the DCIA is approved (PIPEDA).
When transferring personal information to a service provider, PIPEDA does not mandate flawless security measures that completely eliminate all hazards. In order to avoid this possible problem, businesses that outsource the processing and storage of personal data should be aware of it and choose to develop and maintain their outsourcing agreements based on risk-based business decisions.
№5: Select Primary and Secondary Features
You must properly set priorities. It implies that you should never cut corners when it comes to testing, security, or user experience design. However, even if you have an infinite budget, you may cut back on the features and avoid spending all of it on pricey technology when you first release the app. Only after the app is first launched and some test users are using it, when the main features are being used, are critical features required.
The following queries will assist you in defining what is crucial or absolutely necessary:
What standout characteristics does my app have?
What overall benefits does my app provide?
Does this feature address the user's primary concern?
Should you reserve this feature as a premium one for potential future monetization?
Does this feature support a current goal or a future goal?
Is this a useful thing to have?
Is this just a nifty feature and not the main one?
Personalization, customization, and other crucial features
Data encryption, multi-factor user authentication, security, and privacy.
accessibility for disabled individuals (text-to-speech or speech-to-text apps, support for larger fonts, augmentative communication software, sign language translators, etc.)
Health tracking to be used by a patient or by a healthcare professional
Making appointments
Notifications and reminders
Integration with payment systems
Integration with wearables like the Fitbit, Apple Watch, or Garmin
Personal doctor's/account patient's so they may view the patient's health information and get messages and notifications in one spot.
Options for real-time text and video chat for easy communication between patients and doctors in case of an emergency or to discuss diagnoses or treatments
Privacy and security. Users anticipate that the security will match that of financial apps
Automatic generating of reports
Integration with social media apps, networking features
№6: Select The Tech Stack For Your App
Consider software technologies as a whole to determine which are gaining traction and which are maturing. You don't want to pick a tech stack that is risky due to its novelty. Favorable consideration should be given to reliable and "tried-and-true" items. This does not, however, obligate you to use outdated legacy technologies. For established frameworks and technologies that are popular and have a thriving development community, there are several excellent solutions available.
To create several forms of healthcare software, including:
Electronic health record (EHR) software
CRM apps for hospital management
Online prescription apps
Image analysis and visualization systems
Apps for online diagnostics
Medical devices augmented with ML or AI
Systems for urgent care management
Billing and accounting applications
and more, in 2023, the tech used the most is as follows:
Cross-platform: Because there is only one code base, it is less expensive and speeds up the creation of healthcare apps. In this case, Xamarin or the rivaling React or Flutter will be useful. The creation of healthcare apps is more productive with React.
The code stability is improved by ongoing faster rendering. For iOS and Android, code reuse is supported by both React and Flutter. The widget services provided by Flutter and its simplicity in development help healthcare mobile apps run better.
Android: Kotlin is now frequently utilized for the creation of mobile healthcare applications. Compared to Java, it is more lightweight and less complicated. Additionally, it is completely compatible with the Java Virtual Machine, enabling software engineers to use both frameworks when creating the application.
Java: Although it is mostly used to support older versions of apps, Java is still regarded as the most popular language for Android apps today. It includes a vast selection of integrated Java libraries that can be used to develop apps for the aforementioned OS quickly and effectively.
IDEs: They are excellent resources for creating Android apps, including Android Studio and Android Developer Tools (ADT).
UI: Android UI and Jetpack Compose are among the most frequently used technologies when it comes to the user interface.
iOS: Apple-approved language Objective-C is used to create iOS applications. It provides a useful runtime environment and object-oriented possibilities. It offers easier access to private APIs and is more stable. But more developers favor Swift due to its intricacy. Swift offers a quick development cycle, enables better performance and safety, but it has limited interaction with other tools and IDEs. Because of this, it is primarily utilized to support older versions of programs.
IDE: The majority of developers use Xcode, with some choosing to work with Appcode IDE (powered by third-party.)
UI: UIKit and SwiftUI are two tools that mobile developers frequently utilize to create user interfaces. When creating a healthcare app, you may want to take into account connecting with HealthKit.
№7: Build An MVP
The minimal viable product can significantly shorten time-to-market, sometimes even by up to 10 times, depending on the project. With the MVP launch, we can provide users with the initial iteration of their mobile application significantly sooner than if all required features were developed at once.
How To Develop An MVP
A comprehensive guide to building an MVP mobile app
Read
Development Using A Cross-platform Framework
Starting with an MVP, mobile app development can be done either natively for particular platforms, such as iOS and Android, or based on a general framework. You may develop a single application that runs simultaneously on all platforms using Flutter or React Native. As a result, the development time is cut in half, and all platform-specific versions incorporate any updates and improvements. The larger size of the application and the performance degradation are drawbacks of this strategy. However, time-to-market is frequently considerably more crucial for business projects.
№8: Don't Be Afraid Of Bugs When Testing Your App
Even if it makes more sense to conserve resources, most IT teams put in a lot of effort before release. As soon as the app is out, there will undoubtedly be bugs that need to be fixed. First off, there is no need to be concerned about some problems at this point; a prompt response from the developers and technical assistance can convert even the harshest critic into a devoted user.
Secondly, keep in mind that while application issues are to be expected, inaccuracies in user data are not. Nevertheless, protecting user privacy doesn't have to delay launch; there are quick and effective ways to make sure that legal standards are satisfied.
Thirdly, keep unit testing in mind. At first, it could seem like a tedious process, but over time, its advantages become obvious. Prior to deployment, unit testing makes all code compliant with quality standards. As a result, a software development environment emerges where quality comes first. Unit testing helps developers produce better code more quickly and efficiently throughout the whole product development life cycle, saving time and money.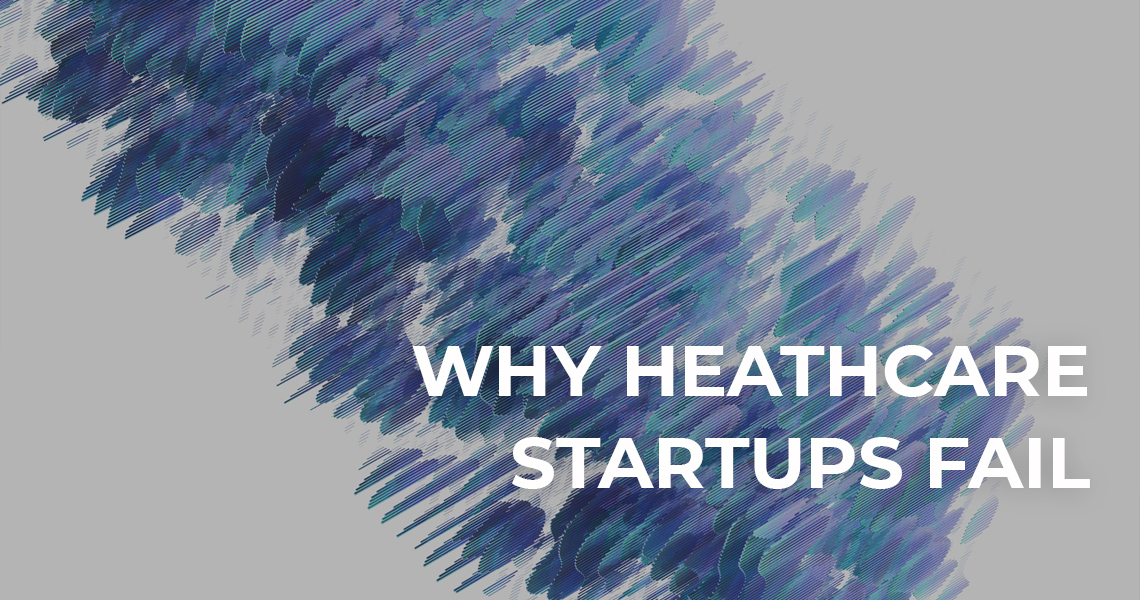 Why Healthcare Startups Fail
Both the App Store and Play Market include more than 370,000 health-related apps. Any startup can - and will - make mistakes during its early stages. Additionally, changing course is more difficult for businesses creating tech products like photo-sharing apps. In a healthcare startup, errors are much more significant.
№1: A Lack Of UX Design Simplicity and Accessibility
By maximizing data storage and usefulness, a well-designed interface facilitates quick and simple communication between a medical professional and a patient, saving both parties' time. Interaction between the application's visible (frontend) and unseen (backend) components must be established. Because of this, medical applications must have strategically positioned labels for simple, quick navigation and color scheme which is easy on the eye.
The average user will make three attempts to learn the program, according to statistics. The app will probably be deleted if a user doesn't sign up, schedule a doctor's appointment, or obtain a recommendation. Remember that consumers of medical applications include millennials as well as adults in their 40s and 50s. Even though this audience is targeted by your service, the app design should be fresh and modern.
As demonstrated by software development experience, you should continue to follow the ideals of simplicity and clarity while creating interfaces, however still adding tooltips that describe how the application functions must be added.
There are other ways to make using the application easier, like saving the history of your actions and using information you've already entered to cut down on future steps.
№2: Lack of Knowledge of Medical Regulations
A good healthcare application needs to adhere to regulatory requirements including user data privacy and FDA. Failure to adhere to these legal criteria could prevent it from being released on a reputable application platform. Laws governing the management of application user data are continuously updated. You must pay special attention to these modifications because they may have an impact on the development process.
№3:Security Vulnerabilities in APIs
APIs are used to provide information between apps and systems by defining how to interact with them. 77% of the 30 mHealth apps assessed had their API keys hardcoded, making them susceptible to attacks that would let an attacker intercept data while it is being transferred. Some of the keys were perpetual, and 7% of the APIs belonged to third-party payment processors, which were explicitly discouraged from hard-coding these private keys.
Additional common startup errors to avoid:
Poor usability of the app
Lack of physician and medical professional input and participation during the creation of healthcare mobile applications
flawed business model and lack of a clear understanding for the app's goal during development
inadequate knowledge of the healthcare industry
Lack of user-friendly terminology and content
Your Trusted Vendor For Healthcare App Development
When looking for a development partner for a healthcare app, look for a company which has extensive experience in healthcare and has developed multiple medical applications and systems already. This will ensure you and the healthcare app development company you have hired speak the same language. We at Businessware Technologies have created various systems and apps for the healthcare industry, both for the patients and for the healthcare providers.
Some of our patient-oriented applications are:
Here a some of the apps we have developed for the healthcare providers:
We have nearly 2 decades of experience in software development, including development of healthcare apps and complex systems, and our team of project managers, software developers and QA engineers are well-versed when it comes to compliance with national and international health data regulations.
Conclusion
What do these statistics and estimates amount to? Healthcare app development seems to provide a ton of commercial potential, and several healthcare organizations or providers are investing in this field to raise service standards, boost productivity, and encourage patient self-management practices.
Always look into the experience of potential technical partners in the healthcare sector., make sure to take a look at their portfolio. Review cost, knowledge, privacy, and data security while asking about their work. Meet the team members who will work on your project to evaluate their professionalism, experience, and skills.
We hope that this article will be helpful when making decisions because there are many nuances to the introduction of mobile applications in the medical sector.