Diving into a computer vision project can be challenging as there are many difficult decisions one needs to take before even getting to the product development stage. You need to find software development engineers who will fit your project needs, have the right experience, understand your business area and how to mitigate potential risks.
With the current state of the labor market, there is a high demand for computer vision developers. It requires a significant investment of money and time to find, hire, train and retain the developers that have the right skill set, so it's more efficient to find a reliable software development partner instead. How do you partner with a computer vision development company which has relevant experience, can build a dedicated software development team, choose the right tech stack, and deliver a top-of-the-line product?
In this article we will share insights into the process of choosing a trusted computer development partner with relevant expertise. You will learn how to leverage computer vision and artificial intelligence to be at the forefront of digital transformation and overcome key challenges.
Looking for AI developers?
We create AI software - and we do it well. Talk to us to get your project started today
Contact Us
Why Companies Invest In Computer Vision
Over the past decade, artificial intelligence and computer vision has improved greatly, allowing computers to sense and analyze the world almost like a human. Facial recognition, autonomous vehicles, smart video surveillance and much more have become possible thanks to the rapid development of computer vision technologies.
Companies all over the world have come to adopt computer vision to make their operations more efficient, and this trend is on the rise. The global computer vision market was valued at $10.6B in 2019 and is expected to reach $19,054.9B by 2027. The computer vision market is already growing at a fast pace, and will continue to do so in the near future. The interest in computer vision will continue to rise as well, making this area of business safe to invest in.
There are multiple factors that drive the adoption of computer vision and artificial intelligence, like the rise in demand for vision-guided robotic systems, government incentives, and a rapid increase of interest towards computer vision systems from businesses. Global events, like a recent pandemic, have also increased the demand for artificial intelligence systems.
Computer vision has found applications in many different fields, like smart diagnostics in healthcare, facial recognition for public surveillance, predictive maintenance and quality inspection in manufacturing, digital advertising, smart KYC practices and AI-assisted onboarding, and much more. The core applications of computer vision systems are as follows:
Quality assurance for manufacturing
Visually guided systems and autonomous vehicles
AI-assisted measurement
Facial and biometric recognition systems
Predictive Maintenance
3D Visualization and interactive 3D modeling
According to Forrester research, over half of all global purchase influencers say that computer vision will become more important for their business in the coming year. Nearly half of all respondents say that their business is already implementing or is interested in implementing computer vision systems in the following year. There are multiple reasons these companies show interest in computer vision implementation:
Time savings
High accuracy
Reliability
Simplification of business processes
Reduction of costs
Better customer service
Optimized number of employees
The increase in interest towards computer vision, a growing number of successful computer vision implementation stories spurs the demand for computer vision developers with relevant experience. However, finding the right inhouse computer vision engineers can prove to be a challenge, which is why businesses - from startups to Fortune 500 companies - choose to outsource their computer vision development needs.
Where To Find A Computer Vision Development Company
A great increase in demand for computer vision developers has caused a skill gap on the market. Lack of relevant AI skills is one of the major obstacles when it comes to computer vision system development, making highly skilled CV engineers to be in high demand, which drives companies to explore software development outsourcing.
How To Select A Computer Vision Development Company?
There are multiple steps you can take to make a well-informed decision when it comes to hiring a computer vision development company:
Start with a list of computer vision development companies that potentially fit your project needs. You will need to review these companies on the services they provide, the quality of said services, the company expertise, experience or lack thereof of working on projects in your field, and security standards.
Take a look at platforms like Clutch, Manifest, Upwork and Goodfirms to read client reviews and testimonials to get a better idea of past company projects and overall customer satisfaction;
Analyze the size of the vendor as large companies are more likely to have enough resources to provide a dedicated team for your project when compared to smaller vendors;
It is important to have a clear understanding whether your outsourcing provider complies with local and international standards like HIPAA, ISO, PCI, and has data security protocols and solid security policy in place;
Ask your potential vendor the right questions to be sure that the provider is reliable. Compile a list of questions that you can ask a software development outsourcing company that will help you get all the important information about the vendor. Questions like "Has your company received any industry awards?" and "Do you have experience working with companies of our size and in our industry?" will help you understand the company's market presence and its average client. Questions like "How do you ensure information security in the workplace?" and "Do you have a comprehensive disaster recovery plan?" will get you an understanding of the company's facilities and the security practices.
Take a look at a company's portfolio on their website, platforms like Clutch or Goodfirms, or ask the provider directly for a portfolio of successfully delivered computer vision projects.
Evaluate the tech stack the company works with and assess the skills of its computer vision developers:
2-5 years of experience in the field of computer vision development or artificial intelligence development;
Experience with data science, cloud development, AI system development, big data.
Technical stack: Tesseract, Python, OpenCV, TensorFlow, Cafe, etc.
Experience in the development of machine learning models as well as creating and balancing datasets;
Experience and proven skill with object detection and classification, edge detection, image segmentation;
History of working with optical character development, natural language processing.
How Your Technology Partner Can Help You With Computer Vision Challenges
Develop a strategy and create proof-of-concept
Not every computer vision project will be successful or profitable, so it is crucial to have a clear understanding of your project potential before diving head first into the development process. Choose a computer vision outsourcing vendor who provides AI and ML validation services. This step will ensure you have a clear understanding of the development strategy, have time, money and detection accuracy estimations, as well as assessments on profitability, both short term and long term. This step will also help you get a thorough analysis of the dataset and receive improval recommendations.
Validate Your AI Idea
We will assess the quality of your dataset and build a test model
Validate
Improve source and training data
Dataset is at the core of any successful computer vision project. The dataset quality has a direct influence on the ML model accuracy, with low quality dataset yielding poor recognition scores. The quality of the dataset is comprised of the total count of images, image quality, image size, balance of image groups, etc. For many computer vision projects, putting together an adequate dataset has proved to be one of the biggest challenges. Here are a few ways to solve this task:
One of the techniques aimed at increasing the overall data count and its diversity without obtaining new data is data augmentation. There are numerous ways to augment visual data like images and videos, which include simple and complex data transformations, data generated by a separate neural network.
Incremental learning is a method of machine learning which does not require a large amount of data for training a model. Instead, learning starts with a very simple model typically predicting the average value with some degree of deviation. When a data scientist enters new data examples, the model is trained to be able to predict more accurate results. Over time, the number of data sets is good enough to make reliable forecasts.
Reinforcement learning and incremental learning are machine learning techniques that allow to train a ML model using less data initially, while still achieving relatively high recognition quality.
Choose the right data storage
Choosing an effective data storage option is one of the cornerstones of overall system efficiency and data security. When it comes to computer vision development, there is often a choice between a data warehouse and a data lake. Data lakes are usually used in advanced machine learning projects where the data is collected from multiple sources in real-time and is stored in its original format. Broad analysis of data gathered over a long time often calls for a use of a data lake, while data warehouse is a better fit for day-to-day operations. Many companies, however, go for both a data lake and a data warehouse, as it allows them to reap the benefits from both.
Companies That Benefited From Outsourcing Computer Vision Development
Case study #1: Technical drawing recognition with computer vision
Our client evaluates the construction of buildings and prepares bills of quantities. To accurately prepare a bill of quantities and provide a price estimation, a technical drawing needs to be analyzed and a lot of data needs to be extracted. Our client approached Businessware Technologies to develop a computer vision-poweree system which would perform the analysis automatically, extracting relevant features and generating a bill of quantities.
The system performs extensive technical drawing analysis and extracts all relevant data:
Highlights all walls, windows, doors, electrical outlets, along with their labels
The floor plan is separated into rooms, which are also counted
The total area of the floor plan is counted
The total length of the walls is counted
Floor plans come with a bill of quantities that contains information about the different labels used in the technical drawing, as well as information about the materials. The PDF tables are not an ideal way to handle large amounts of data since they cannot be edited and the data cannot be sorted or filtered.
We have developed a subsystem that scans the PDF tables and turns them into Excel tables without changing the original structure of the table and keeping the data integrity.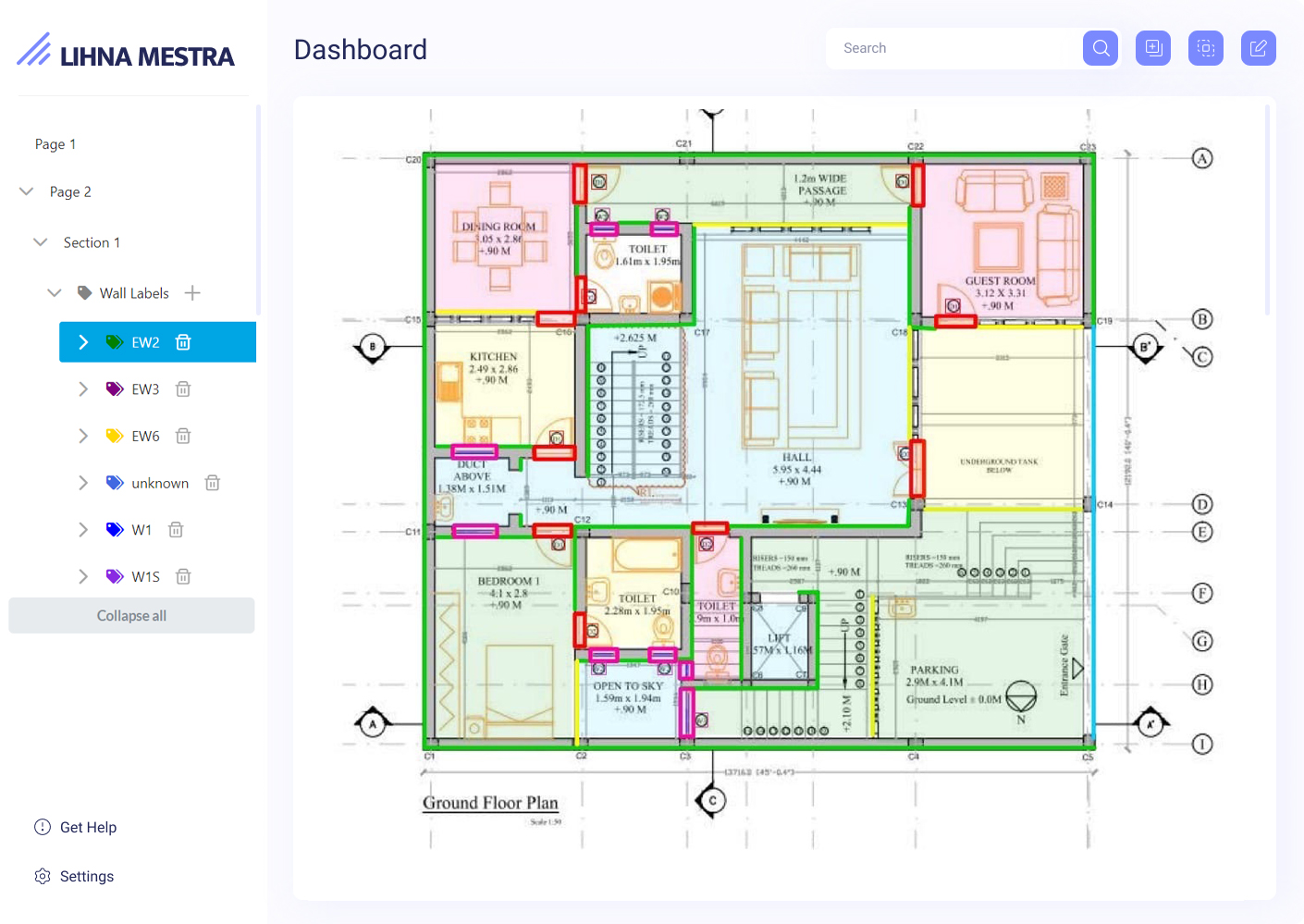 Case study #2: Computer vision solution for art recognition
Our client (under NDA) is an Australian-based company that develops intelligent transport solutions (ITS) for government, police, and traffic departments. The company provides solutions and services to help minimize traffic congestion, lessen emissions, eliminate fatal crashes, and reduce vehicle incidents thus making our cities safer and saving lives.
Our client is a local museum striving to augment the visitor experience with modern technologies. Businessware Technologies was approached to develop a computer vision solution for real-time art recognition.
Here at Businessware Technologies, we have developed an app which performed under significant limitations:
Ability to add more classes without retraining the model
As our client didn't have any experience with AI nor did they want to hire in-staff ML developers, we faced a significant limitation: we couldn't retrain the image recognition model when new art pieces are added to a collection.
Another limitation was how quick the detection and recognition process would have to be. Our client requested the recognition process to take less than 1 second.
The app uses keypoint detection to recognize art pieces in real-time and provide their description. The algorithm works just as well as a machine learning model would for their application, but meets the requirements of the project, which regular ML models couldn't do.
Our client didn't have to invest in servers to run the machine learning model from: our app does all of the heavy work on the mobile device. The recognition process on average takes ~600 ms, depending on the type of mobile device used.
Why Choose Businessware Technologies As Your Computer Vision Development Partner?
Businessware Technologies is a reliable computer vision development vendor: it has been recognised as one of the top software development companies by Clutch and Manifest, it is a Top Rated Plus agency Upwork, and has received local awards for its excellent work
A team of over 70 highly skilled software engineers with extensive experience in developing complex software for both startups and Fortune 500 companies
Deep expertise in modern computer vision technologies and approaches to system development, like data science, AI and machine learning, OpenCV, Python, Tesseract, and many more
Businessware Technologies is a Microsoft Gold Certified partner
Businessware Technologies is compliant with GDPR, ISO 9001, ISO 27001 standards
Businessware Technologies works with Fortune 500 companies and has had decades-long relationships with most of its clients
Businessware Technologies has proven to be a reliable computer vision outsourcing partner by having an excellent track record in computer vision development backed by an extensive portfolio of successful projects.
If you have a computer vision project in mind and need help with implementation, contact our manager and they will be happy to help you.